Unleashing Stevie Wonder's Music of the Mind with 'Tonto'
Last Updated by
By Joshua Bennett, Producer, Soundbreaking
One of my favorite stories in Soundbreaking series is the story on Stevie Wonder in "Going Electric." I have been a huge fan of Stevie Wonder's music since I started playing music in High School.  Learning to play the songs you love on your own is always an educational process- learning to play Stevie Wonder's music was like taking a master's program. Much has been written about Stevie's incredible use of harmony, his chord structures, and his gift for melody. His songs are at once so complex and so accessible, he represents a songwriting height that few artists achieve, much less time and time again.
When we started work on Soundbreaking, I knew I wanted to share the story of Stevie's music and his art. In particular, the music from his golden era: the 1972-9176 run that took us from "Music of My Mind" to the landmark "Songs in the Key of Life."  (If you haven't check out every album in that run, "Innervisions", "Talking Book" and "Fulfillingness' First Finale" all contain classic songs and show an artist breaking musical ground almost in real time).
My main focus was Stevie's unique use of synthesizers in this period. It's hard to imagine how radical his use of synths would have sounded at the time, and the range he got, from love songs like "I Love Every Little Thing About You" to funk classics like "Living for the City". The way he layers synthesizers and creates landscapes of sound is incredible now, but for the early 1970s, almost unheard of from a major recording artist.
While researching his use of synthesizers, and specifically a device called "Tonto," I came across two names I hadn't heard before, Bob Margouleff and Malcolm Cecil. Intrigued, I spoke to the incredible archivist Amy Schewell about Stevie and the Tonto, and she found some footage of him performing against it -- a gigantic, science-fiction like device, with two wild haired, mad professor types, Malcolm and Bob, nodding their heads in the background.  We knew right away this was the story, and sought out Bob and later Malcolm to tell their story of spending almost 5 years working alongside Stevie.
Both Bob and Malcolm were incredibly generous interviewees, and brought to life what it was like to work with such a unique and singular artist. As they told it, Stevie had literally hundreds of song ideas, and they worked day and night for years, compiling upwards of 500 songs. The constant tool in all this work was their "Tonto" system, a massive synthesizer unit built out of all sorts of modular synths, connected and run through hundreds of wires, ports that, fully assembled, would take up an entire living room. I would love to see the master tapes from these sessions, or find a way to get Stevie to release his own "Basement Tapes" style outtakes of all the music that didn't make it on these albums. 
As a musician, perhaps the most amazing revelation was around Stevie's use of the synthesizers. At that time, synthesizers could only play one note at a time -- you couldn't play chords or multiple notes together. To make a chord, you'd have to go back and record each note of that chord individually. This was kind of a jaw dropper, and pointed to the dedication and commitment that Stevie, Bob and Malcolm had to their music.
Getting those incredible chords that I struggled to figure out on my guitar as a kid onto their records took them multiple passes for each song, meaning they were likely doing dozens of complete takes just to build out the master tracks as we hear them today. To be this methodical and still be so creatively adventurous and forward looking is a rare achievement. It too a special combination of incredible artistry and techy music nerds to dig in and push technology far enough to capture the music that was waiting in Stevie's singular mind.
More from Soundbreaking
Detroit Public Television talks with Was about his career and work with Soundbreaking.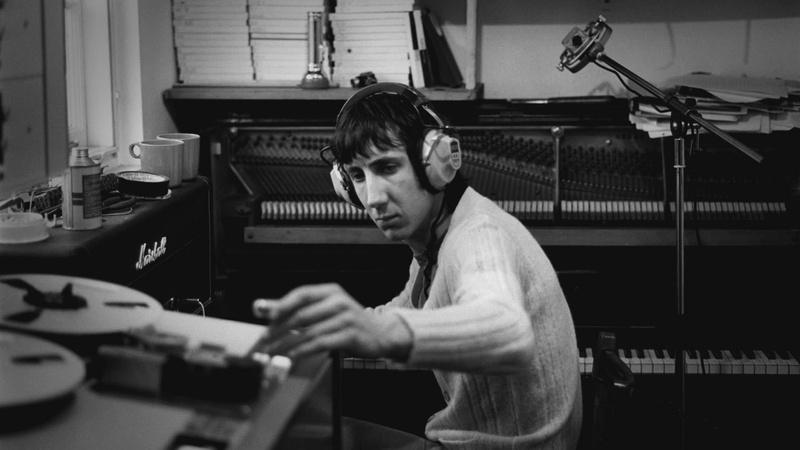 The synthesizer played an unforgettable role on the incredible back catalog of The Who.
Take a look at just a sample of the artists and technology featured in the show.